The industry's most prestigious design competition

JCK is proud to celebrate the seventh annual Jewelers' Choice Awards! The JCK Jewelers' Choice Awards is the industry's biggest retailer-determined design competition. Celebrating its seventh year, Jewelers' Choice continues to challenge designers and manufacturers to create innovative and salable pieces and to offer retailers the opportunity to vote on their favorites.
Cici Maui Designs "Rip Curl" wave cuff in Sterling Silver will be featured in the 2014 Jewelers Choice Awards Competition in the Sterling Silver $501-$1000.00 category!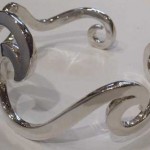 Rip Curl wave cuff bracelet in .925 sterling silver. This bracelet incorporates three waves, representing yesterday, today, and tomorrow. The wave holds the symbolic meaning of strength (due to the wave being one of nature's strongest forces) and ever-lasting (due to its continual state of motion).